UM FIRST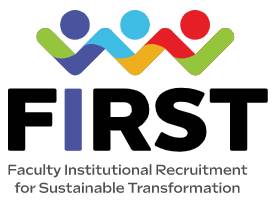 The NIH Common Fund's Faculty Institutional Recruitment for Sustainable Transformation (FIRST) program aims to enhance and maintain cultures of inclusive excellence in the biomedical research community. "Inclusive excellence" refers to cultures that establish and sustain scientific environments that cultivate and benefit from a full range of talent.
NIH aims to facilitate institutions in their building a self-reinforcing community of scientists, through recruitment of a critical mass of early-career faculty who have a demonstrated commitment to inclusive excellence. The program also seeks to have a positive impact on faculty development, retention, progression, and eventual promotion, as well as develop inclusive environments that are sustainable.
---
About Us

The University of Maryland FIRST program is a partnership between the UMSOM and UMBC. Our overarching goal is to create a comprehensive model dedicated to ensuring a diverse, scholarly environment and encouraging outstanding individuals to enter the academic profession through a commitment to inclusive excellence.
---
Our Team
University of Maryland FIRST is led by two senior leaders, each with over 30 years of experience at their institution and a proven commitment to increasing diversity in the biomedical sciences. Dr. James Kaper is the Vice Dean for Academic Affairs at UMSOM, and Dr. William LaCourse is the Dean of the College of Natural and Mathematical Sciences at UMBC.
---
Apply
The UMSOM and the UMBC are committed to creating an environment conducive to supporting diverse and successful biomedical researchers. Through UM FIRST program, we intend to hire a cohort of at least 10 early-stage investigators in the areas of cancer biology, neuroscience, and microbiology/immunology/vaccinology/infectious diseases.
---
News
September 23, 2022
UMBC and University of Maryland School of Medicine receive $13.7M NIH FIRST grant to increase faculty diversity
September 20, 2022
NIH Awards $13.7 Million Grant to Recruit Underrepresented Groups as New Faculty